hades
posted Feb 16, 2019 16:35:08 GMT
[nospaces]
[attr="class","freiwant"]
[attr="class","freiwant1"]
[attr="class","freiwanttop"]
[attr="class","freiwanttop1"]- □ x
YOU'RE ALL THAT I SEE
[attr="class","freiwantimg"]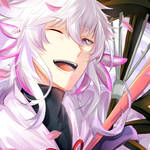 [attr="class","freiwantinfo"]
| | |
| --- | --- |
| name | hades |
| pronouns | he/him |
| age | 27 |
| orientation | bisexual |
| played by | niju |
[attr="class","freiwantmid"]CHARACTER FACTION team rocket
[attr="class","freiwantmid"]CHARACTER RANK beast
[attr="class","freiwantmid"]FACE CLAIM merlin from fate
[attr="class","freiwanttop"]ABOUT THE CHARACTER
[attr="class","freiwantbot"]
[break]
---
[break][break]


Born in the Kanto region to lower class parents, Kacey Graham had very little as a child. His parents had no care for pokemon, though from a young age Kacey was fascinated with them-especially dark and fairy types. He would go see them, if he could, at his friends' houses. This kind of behavior was discouraged as jouvenile by his mother especially.[break]


Having dealt with his mother being abusive to both him and his father, Kacey couldn't bear to see it when she would go after his little brother with the same vehemence. His father left when Kacey turned fourteen, leaving Kacey and his little brother alone to deal with their mother. When her abuse turned unbearable and left Kacey's little brother in tears and bleeding, he knew something had to be done.[break]


Around this time he found his first pokémon, an injured purrloin that had been hit by a car. He nurtured it and cared for it so it wouldn't die, and the creature took to him strongly. He made plans in whispers with his purrloin, and the pokémon made it clear she would support Kacey no matter what when he offered her a chance to leave and she refused.[break]


Kacey killed his mother on her forty-second birthday. Didn't make a big deal out of it. Did it while his little brother was out. He has never felt a shred of remorse for it.[break]


He joined up with Rocket rather early, when he turned 18, and found that he had quite a bit of ambition to move up in the ranks of the organization. he remained very unimportant for a long time, as he honed his battling skills, and learned patience. It was during this time that he started going by Hades so his little brother couldn't find him and he could start over in his life. [break]


Hades tends to work quietly, and outwardly doesn't show his true personality whatsoever. He's a very charming and flirtatious person, and acts kindly towards others. When he was offered the position of becoming one of the four beasts, people were surprised. Most hadn't seen him battle, and most-even in team rocket-see him as the guy who's a bit of a pushover and much-to-kind.


PHARAOH LEAP CREATES
[googlefont=Pragati Narrow:400,700][googlefont=Inconsolata][googlefont=Quattrocento Sans:400,700]
[newclass=.freiwant]padding:9px;border:solid 1px #191919;background-color:#282828;text-align:justify;width:430px;[/newclass]
[newclass=.freiwant1]background-color:#222222;padding:15px;color:#999999;[/newclass]
[newclass=.freiwanttop]background-color:#111111;color:#eeeeee;font:10px Inconsolata;letter-spacing:.3px;padding:15px;margin-bottom:5px;line-height:10px;letter-spacing:.5px;[/newclass]
[newclass=.freiwanttop1]color:#60495a;float:right;[/newclass]
[newclass=.freiwantimg]padding:6px;border:solid 1px #191919;background-color:#1e1e1e;height:86px;width:86px;float:left;[/newclass]
[newclass=.freiwantimg img]height:86px;width:86px;[/newclass]
[newclass=.freiwantinfo]background-color:#1e1e1e;padding:14px;border:solid 1px #191919;margin-left:105px;height:70px;font:12px Quattrocento Sans;text-transform:lowercase;margin-bottom:5px;line-height:14px;[/newclass]
[newclass=.freiwantinfo b]color:#60495a;[/newclass]
[newclass=.freiwantinfo table]margin:0px;[/newclass]
[newclass=.freiwantmid]border:solid 1px #191919;padding:14px;background-color:#1e1e1e;font:12px Inconsolata;margin-bottom:5px;line-height:10px;[/newclass]
[newclass=.freiwantmid b]font:bold 11px Quattrocento Sans;color:#60495a;padding-right:5px;line-height:10px;[/newclass]
[newclass=.freiwantmid a]font:bold 11px Quattrocento Sans;color:#dddddd;padding-right:5px;line-height:10px;[/newclass]
[newclass=.freiwantbot]border:solid 1px #191919;padding:24px;background-color:#1e1e1e;font:11px Inconsolata;letter-spacing:.3px;text-transform:lowercase;[/newclass]
[newclass=.freiwantbot b]font:bold 11px Quattrocento Sans;color:#60495a;[/newclass]
[newclass=.freiwantbot a]font:bold 11px Quattrocento Sans;color:#eeeeee;[/newclass]