[nospaces]
[attr="class","freiwant"]
[attr="class","freiwant1"]
[attr="class","freiwanttop"]
[attr="class","freiwanttop1"]- □ x
YOU'RE ALL THAT I SEE
[attr="class","freiwantimg"]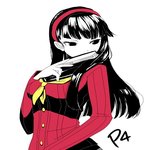 [attr="class","freiwantinfo"]
| | |
| --- | --- |
| name | Jesse Gale |
| pronouns | She/Her |
| age | Twenty-five |
| orientation | Pansexual |
| played by | Bibi |
[attr="class","freiwantmid"]CHARACTER FACTION team rocket
[attr="class","freiwantmid"]CHARACTER RANK grunt
[attr="class","freiwantmid"]FACE CLAIM Amagi Yukiko from Persona 4
[attr="class","freiwanttop"]ABOUT THE CHARACTER
[attr="class","freiwantbot"]
[break]
---
[break][break]
Jesse have always felt she had no other option but being a Team Rocket member. It was the only thing that gave her a better life, a better life than stealing whatever she could get her hands on, skipping from one Hoenn city to another in fear of one day being caught. Even with this life She was dreaming of a better life, taking things like jewelry just to feel rich and important for once. Made her great at stealing but not much else. She had brothers and sisters with just as bad situations when their parents disappeared, sure, but they skipped out to the first things that could get them a better life, jobs, even moving to another region, and Jesse had too much pride to ask for help.
[break][break]
Eventually she couldn't take it, getting no opportunities. So she made one. And Team Rocket was probably the best decision she could have made, it made her stronger, important. Somehow, she almost left, the first time Team Rocket fell apart, but just a few days of a distressingly similar life to her teenager years sent her running back to Team Rocket, terrified of losing her security.
[break][break]
And that's exactly what Team Rocket is to her. Security. She might have a good heart, somewhere deep down, but how could she betray the most secure group she have ever known? It keeps her safer, more important, and let's her takes what she wants, things that are expensive, rare, stuff she would get if she was rich. Materialistic? Yes, but let a girl dream.
PHARAOH LEAP CREATES
[googlefont=Pragati Narrow:400,700][googlefont=Inconsolata][googlefont=Quattrocento Sans:400,700]
[newclass=.freiwant]padding:9px;border:solid 1px #191919;background-color:#282828;text-align:justify;width:430px;[/newclass]
[newclass=.freiwant1]background-color:#222222;padding:15px;color:#999999;[/newclass]
[newclass=.freiwanttop]background-color:#111111;color:#eeeeee;font:10px Inconsolata;letter-spacing:.3px;padding:15px;margin-bottom:5px;line-height:10px;letter-spacing:.5px;[/newclass]
[newclass=.freiwanttop1]color:#60495a;float:right;[/newclass]
[newclass=.freiwantimg]padding:6px;border:solid 1px #191919;background-color:#1e1e1e;height:86px;width:86px;float:left;[/newclass]
[newclass=.freiwantimg img]height:86px;width:86px;[/newclass]
[newclass=.freiwantinfo]background-color:#1e1e1e;padding:14px;border:solid 1px #191919;margin-left:105px;height:70px;font:12px Quattrocento Sans;text-transform:lowercase;margin-bottom:5px;line-height:14px;[/newclass]
[newclass=.freiwantinfo b]color:#60495a;[/newclass]
[newclass=.freiwantinfo table]margin:0px;[/newclass]
[newclass=.freiwantmid]border:solid 1px #191919;padding:14px;background-color:#1e1e1e;font:12px Inconsolata;margin-bottom:5px;line-height:10px;[/newclass]
[newclass=.freiwantmid b]font:bold 11px Quattrocento Sans;color:#60495a;padding-right:5px;line-height:10px;[/newclass]
[newclass=.freiwantmid a]font:bold 11px Quattrocento Sans;color:#dddddd;padding-right:5px;line-height:10px;[/newclass]
[newclass=.freiwantbot]border:solid 1px #191919;padding:24px;background-color:#1e1e1e;font:11px Inconsolata;letter-spacing:.3px;text-transform:lowercase;[/newclass]
[newclass=.freiwantbot b]font:bold 11px Quattrocento Sans;color:#60495a;[/newclass]
[newclass=.freiwantbot a]font:bold 11px Quattrocento Sans;color:#eeeeee;[/newclass]